Released: 4/18/18
Interface Redesign
In an effort to improve usability, AIMS will be undergoing a user interface redesign, to be rolled out in stages over the next several releases so that we can continue apace with improvements to the application. Key improvements that you can expect to see over the next few releases include:
Standardized use of colors to better reflect AutoMon's brand and improve readability for sight-impaired users;
Standardized placement of buttons and menus to align with user expectations and improve consistency throughout the application;
Add user preferences and "remember" capabilities so that screens load in a state better aligned with workflows and user expectations;
Standardized look and feel of dialogs to improve consistency throughout the application;
Improved layout of detail screens to highlight critical information;
Modest reorganization to simplify navigation and to improve the presentation of data.
Specialty Court Referral (Arrest Step)
As part of the ongoing effort to improve the AIMS user experience , the Specialty Court referral process has been changed. We have removed the arrest step from the new referral wizard to improve the speed and accuracy of entering new referrals. To add an arrest or criminal case, please use the Criminal History view from the main Participant page. Note: The criminal history view is currently under redesign and will be greatly improved in an upcoming release.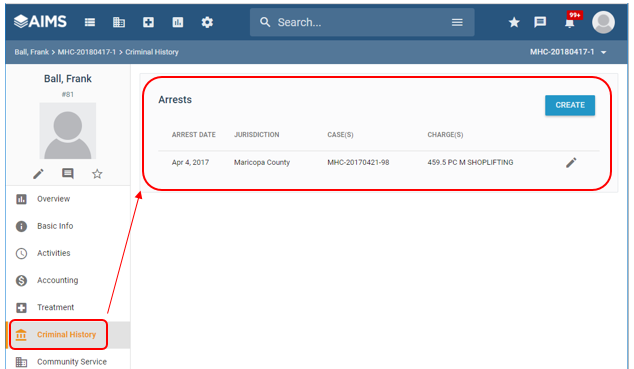 DUI Information
We have added the ability to view and edit DUI information from the participant overview and have removed DUI information from criminal history. This only applies to DUI Court involvements. Note: This is part of a larger effort to support different details per Specialty Court involvement type, e.g., DUI Court, Drug Court, Veterans Court, etc.