Released: 4/15/2019
The AIMS v1.45 release includes several resolutions to reported bugs and the following new features:
Grouped Bar Charts and KPI Charts
When creating custom dashboards, users are now able to create two new types of charts: KPI Charts and Grouped Bar (Vertical and Horizontal) Charts.
KPI Charts simply allow the display of a single number count or sum.
Grouped Bar charts allow the data to be segmented two ways. In the example below, we show the number of Involvements by race and gender.
Dashboards – Social Functioning
Users now have access to a new Social Functioning dashboard that utilizes data captured from the Social Functioning surveys available in AIMS. Similar to AIMS' other dashboards, users have the ability to filter by location and date range. For the charts on this dashboard, the date range is configured to utilize the Involvement's admitted date.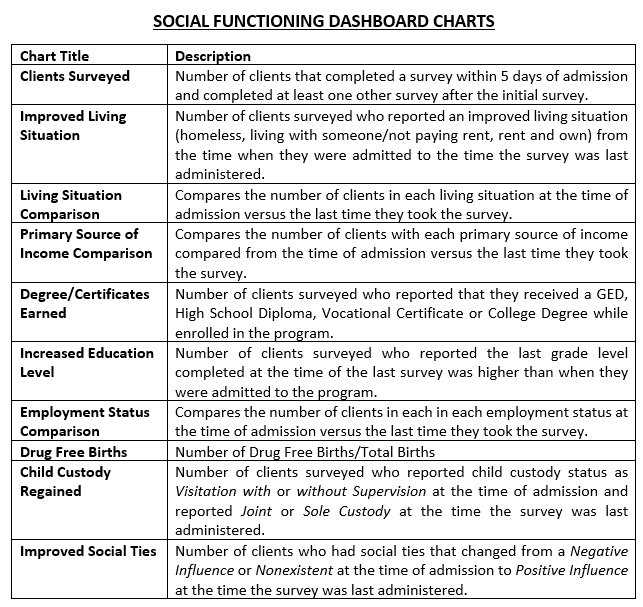 Data Sources – Social Functioning
AIMS now has four new data sources related to social functioning data acquired through the Social Functioning survey in AIMS. The "Social Functioning Surveys" data source contains all raw data collected from the surveys while the other three contain counts and calculated fields needed to create the Improvements and Comparison charts. The following links display sample data elements within each new source.
Social Functioning Comparisons
Social Functioning Improvements
Social Functioning Influential Improvements
Terminate Involvement Confirmation
When terminating an Involvement, the Client's name has been added to the Terminate dialog screen; users are also now presented with a confirmation dialog to verify the Involvement termination.
Client Name Added to Received Payments Report
Client names have been added to the Received Payments Report.
Reports Header – Now Configurable in System Administration
Users now have the ability to configure the heading that displays on reports by adjusting the "Report Header Display Name" in System Administration. When adding a new security location, the report header display name will default to the name entered for that location, however, the user may change it to whatever location they would like. If the report header display name is left blank for a particular location, it will use the report header display name for its parent location.
Once configured, the report display name will be displayed on the top right corner of any report that is printed for that security location.
Note that if the report allows the selection of several locations, the report header display name for the root level location will be displayed.
TCU CTS Assessment
Users in the State of Louisiana now have the ability to complete the TCU CTS Assessment within AIMS.
*Other customers interested in utilizing the TCU CTS Assessment within AIMS should contact AutoMon Support to enable the instrument in your tenant.