Released: 4/29/2019
The AIMS v1.46 release includes several resolutions to reported bugs and the following new features:
Hearing Status Report Configuration Capability
AIMS v1.46 adds the ability to configure the types of data presented on the Hearing Status Report, by location.
To access the Status Report Configuration functionality, users with permissions first select the appropriate location:
Under the main menu, select Location Configuration, then select Status Report Configuration:
Users will then see a list of sections available as they will appear on the Hearing Status Report. The default view has all sections selected; to hide a section from the Status Report, simply uncheck the box next to the section header.
Removing New Notes will remove all note types listed under New Notes.
When done, click Save; the Hearing Status Report will reflect the sections selected in Status Report Configuration.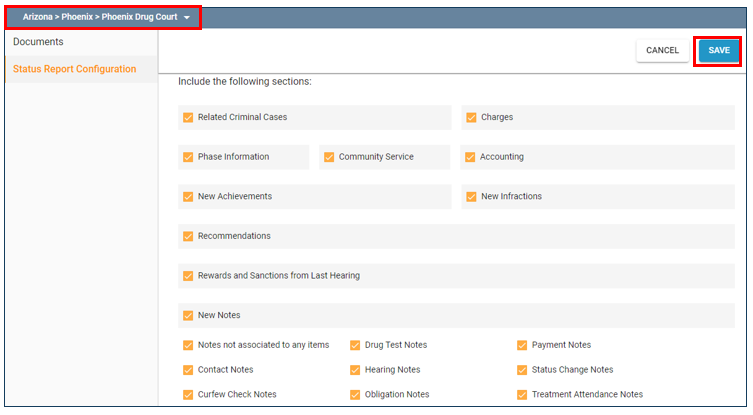 Status Report Redesign
As displayed below, the Hearing Status Report has been redesigned to be more concise. Users will now see the location-based configuration Status Report when generating the report from the Hearings page or from the Client Hearings page. The new Hearing Status Report contains the following:
Criminal cases related to the Involvement, charges and sentencing;
Accounting and Community Service information;
Only new Achievements and Infractions that have occurred since the last completed hearing;
Recommended Sanctions and Rewards are combined into one section;
Prior Sanctions and Rewards are combined into one section and list only the Sanctions and Rewards from the previously completed hearing;
A new Notes section now displays the Note and the item to which it is associated;
Only notes not already displayed elsewhere on the report are displayed in the New Notes section, meaning no Infraction, Sanction, Reward or Recommendation notes will be displayed in this section.
For a detailed overview of the new Status Report, click the button below:
TCU TRMA Assessment
Users in the State of Louisiana now have the ability to complete the TCU-TRMA Assessment within AIMS. The instrument can be accessed under the Surveys, Assessments & Goals tab for any Specialty Court Client.
*Other customers interested in utilizing the TCU-TRMA instrument within AIMS should contact AutoMon Support at support@automon.com to enable the instrument in your tenant.
Added Support for Lab Results with No Units Reported
AIMS now provides support to receive drug test results with no units, allowing users to update the test outcome and indicate approved prescription levels without error.