Released: 6/10/2019
The AIMS v1.49 release includes resolutions to several bugs and the following new functionality:
Print Docket Report
v1.49 provides added functionality allowing users to print a report with a list of clients scheduled for a hearing on a particular day.
From the Hearings page (Specialty Courts –> Supervision –> Hearings) , users will note a new Print icon (printer).
The Print icon is a drop-down menu with the option to select Docket Report or Status Report – note that the Status Report option is greyed out and unavailable until at least one client has been selected on the Hearings menu.
Selecting Docket Report from the drop-down will generate a .PDF of all clients scheduled to appear on the selected date, including Date, Court location, Involvement Number, Client photo, Client Name, Client ID, Hearing Status (Pending or Reviewed), Hearing Time, Court, Caseload, Track and Phase.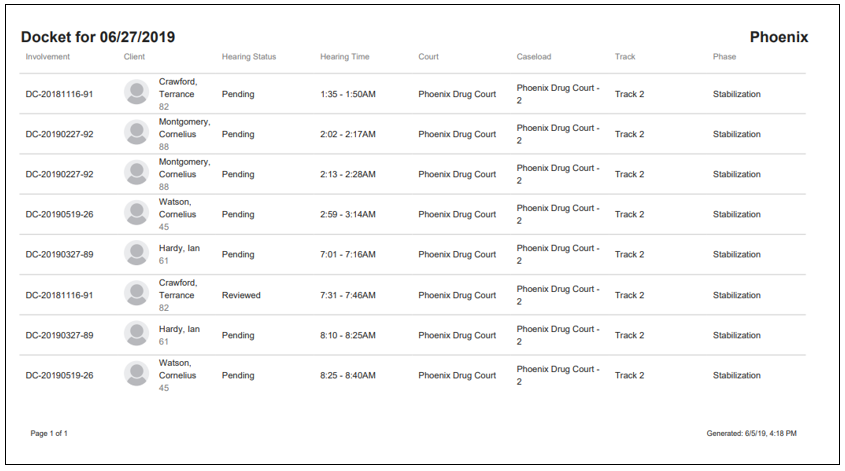 Configure Drug Testing Notification Time by Tenant
AIMS currently generates Drug Testing notifications for all customers at 6:00 AM, local time. In order to accommodate customers who have requested the ability to provide more notice to their clients, v1.49 now allows for notification time to be set at the tenant level, allowing each customer to configure the desired time for Drug Testing notifications.
As this new functionality is not currently available in System Administration, customers interested in modifying the time of their Drug testing reminders should contact AutoMon Support either at Support@automon.com, through TeamSupport or at (480) 368-8555, ext.2.