Released: 4/18/18
Ce Pretrial v1.38.0 includes the following feature enhancements:
Court Date Reminders During Telephone Check-in
Ce Pretrial will now deliver Court Reminders during a telephone check-in. At the end of a telephone check-in, the system will inform the defendant of their next court appearance, including date, time, and location (court & room).
Personal Access Tokens for Word Add-in 
Due to upcoming security requirements, the sign in process for the Ce Pretrial Microsoft Word Add-in has changed. The sign in process now requires the user to generate a Personal Access Token through the Ce Pretrial website for use within the Word Add-in. This token is a cryptographically signed token that is securely stored and transmitted to the Ce Pretrial API to establish the user's rights and permissions.
To generate a Personal Access Token:
Sign in to Ce Pretrial and select "Personal Access Token" from the User drop-down menu located in the top-right hand corner of the application.
Upon first use the Personal Access Token dialog will prompt you to generate an access token.
Click "Generate Token" to create your access token.
Copy your access token.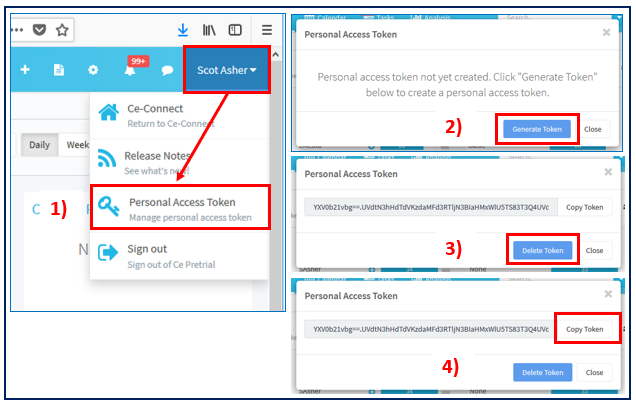 5. Open Microsoft Word and select the Ce Pretrial tab.
6. Verify that you're using version 1.2.0.0 or later of the Ce Pretrial Add-in. (Note: If you are not on 1.2.0.0 or later, click the "Check for Update" button to ensure you have the latest version.)
7. Click Sign In.
8. Paste your token into the Personal Access Token field and click Sign In.
9. You should now be successfully signed in.