Released: 7/8/2019
The Ce Pretrial v1.64 release includes several bug fixes and the following new functionality:
Ability to Delete a Violation in the Violation Tab
Ce Pretrial v1.64 adds the ability to delete a Violation within the Violations tab, regardless if there has been a disposition made.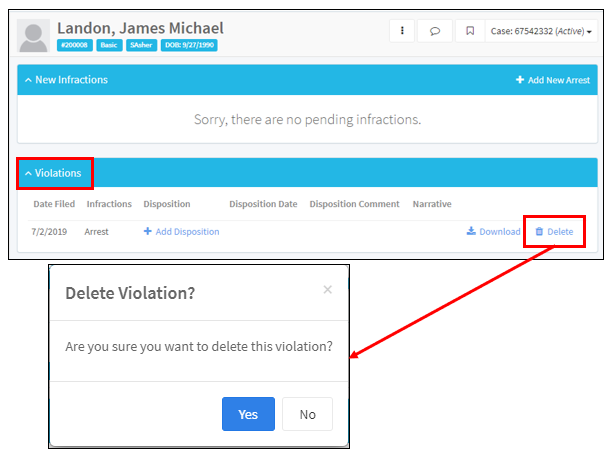 Once a Violation has been deleted, all Infractions tied to the Violation will be restored as Infractions.
Deleted Violations do not show up in the Analysis Violation datasource.
Ability to add Existing Cases to an Active Case
Users now have the ability to add an existing case to a defendant's active Pretrial Case. In the scenario where a previous case was closed and later reactivated (i.e., when a judge decides to re-open a closed case – such as the case with a FTA or Bench Warrant – and hear both cases at the same time), rather than reopening the same case and changing the details, users can now add that closed case to an existing Pretrial Case. This will ensure that the new "cycle" for this case is captured separately from the previous events.
The Add Existing Case dialog has a Case drop-down allowing users to select a case from another Pretrial Case. Both open and closed cases can be selected. If a closed case is selected, it will be re-opened in the involvement it is brought over to, but will remain closed in its previous Involvement. All case details including Charges and Conditions will be brought over.
Added County ID as a Client Identifier
A new County ID attribute for Defendants has been added to Defendant Demographics. The County ID attribute has been added to Analysis as well as the MS Word interface.
The County ID attribute can be seen on the Defendant's Basic Information page in the Demographics card section.
Users can now also search by County ID through the expanded Search function: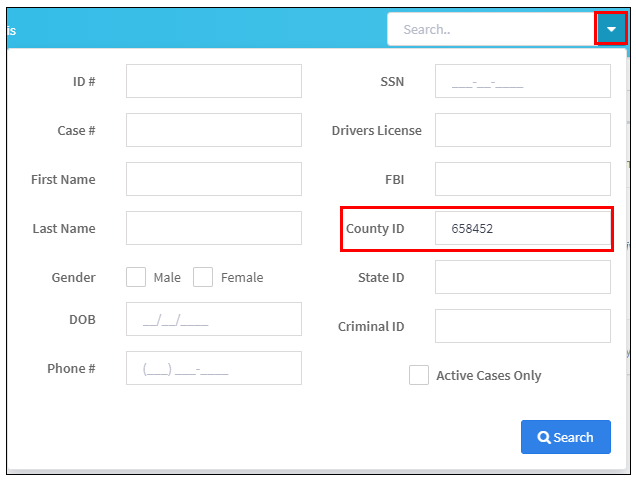 Validation functionality has also been added to notify users if a County ID already exists in Ce Pretrial for another Defendant.